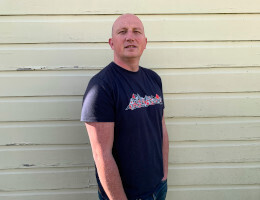 All blog posts
See the rest of the team
Dominic Rogers
---
Dominic is a seasoned UX designer with over 20 years of experience in the world of software development. With a deep understanding of human behaviour and psychology, Dominic has dedicated their career to creating intuitive and delightful user experiences.
Throughout their career, Dominic has worked with a diverse range of clients and projects, from small startups to large corporations. They have a proven track record of creating user-centered designs that not only look great but also improve user engagement and satisfaction. Dominic's skills include user research, wireframing, prototyping, requirements analysis, workshop facilitation and user testing - to name a few.
Dominic is also a strong collaborator and team player. They have excellent communication and problem-solving skills, which enable them to work effectively with cross-functional teams of designers, developers, and stakeholders.
Dominic has a Bachelor in Mathematics & Computing from University College Chester and certifications in UX Management (NNGroup) and Graphic Design (CalArts). He is an experienced speaker and has spoken at UX New Zealand, UX Homegrown (twice), 24 Hours of UX (twice) and Freelance Business Month.