Venerdi had identified the need to streamline and improve their processes, specifically on the factory floor, with the objective to improve efficiency through the shift and in traceability, along with overall quality and compliance. Springtimesoft and SISO undertook a series of three workshops to define the gaps and opportunities for the system, in order to develop the next phase of the project - a prototype for solution testing.
---
Defining the problem through service design
The team at Venerdi came to us looking for a database solution. They knew there were problems in their processes that were leading to inefficiencies in the factory and increasing the workload for traceability and quality compliance, but needed a way to view and define this. The process we undertook with the team helped them to articulate the current state and problems and therefore then define what was required to change.
Rather than diving straight into a solution, we worked with Venerdi on a service design approach that gave them a process to really delve more deeply into the driving factors and their process. It also gives their staff an opportunity to raise problems and opportunities that the organisation may not be aware of. Along with the obvious benefits of learning more, this process allows everyone engaged to feel invested and heard in the process and eventual solution; and provides an opportunity to identify quick wins that the organisation can make to existing gaps.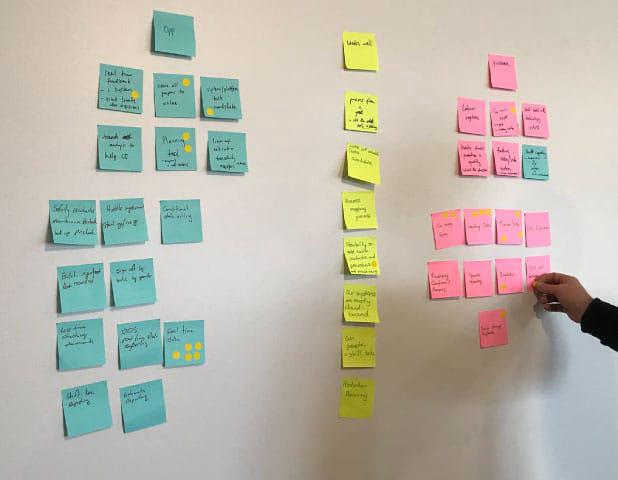 Approach
We set up three workshops with different areas of the business to ensure we heard from both the drivers of the changes, and the people who would need to adapt to and use the solution - the factory staff, quality teams and data analysts. Each workshop was tailored to suit the group that we were working with, their roles and responsibilities, and the parts of the process they interacted with.
Throughout the workshop exercises we considered three key components of service design - people, props (environment and tools) and processes.
Findings were collected and validated during the research and then documented and grouped into themes.
Outcomes
The intention of this service design process was to create a source of truth for the current state of Venerdi's processes, provide clarity on the gaps and opportunities, and drive the next phase of creating a meaningful solution.
We delivered a report to Venerdi that included:
A high level summary of the findings and recommendations.
Detailed process maps outlining both the current state and recommended future state of key processes and detailed drill downs into specific areas.
Gap analysis.
Detailed findings of other research conducted, including device and environmental factors.
---
We do this work because we're passionate about effective outcomes. The delivery of a comprehensive report and supporting documents at the completion of this phase means that, regardless of what the technical solution is and who creates it, the work is well-informed and evidence-based.