← View all work
Platform | Atamira
Revitalising online presence based on codesign and user testing feedback.
Codesign
UX research
UX/UI design
web development
Managed application stack
---
Process overview of designing and developing a new website in Silverstripe CMS.
Platform | Atamira is a long standing pillar of the mental health and addictions community sector in Aotearoa with over 20 years of championing community organisations to ensure people have a positive place to live, learn and work. Their work includes contribution to implementing recommendations in He Ara Oranga, fostering strategic partnerships and alliances, and supporting community mental health and addictions service providers.
In 2020, following a communication audit, Platform | Atamira were looking for support in improving their online engagement through the website. Following a kickoff workshop to more deeply understand the organisation and their objectives, we worked closely with Platform | Atamira to design and develop a new website, better suited to the current state of the organisation and more flexible to its future needs.
---
Codesign to kick off
The Platform | Atamira team had done considerable work to get to a really solid understanding of their need and key drivers. What they needed was a way to articulate this into a brief that could then be reflected in their website.
We began with a kick off workshop to gain a clear understanding of the need and help create clarity and an approach to best tackle the next steps. As a group we undertook a number of different exercises to generate ideas, validate assumptions, to elicit requirements, and guide design approach.
Workshop exercises included:
Persona definition - Further development of personas already created by Platform | Atamira.
Journey mapping - A storyboard/process of how a user will interact with the website to accomplish their goal.
Card sort - Organisation of content by grouping cards, to begin developing the information architecture.
Crazy eights - fast sketching exercise for idea generation.
Moodboard and exemplar review - review of similar websites or organisations for references and inspiration.
Feature identification and prioritisation.
The outcome of this workshop was a steering document of findings that could be shared with any supplier to guide the website rebuild and any future website enhancements.
This gave Platform | Atamira more clarity to guide their work and have conversations about the website redesign with their users and core objectives front of mind.
From the whiteboard to the workshop summary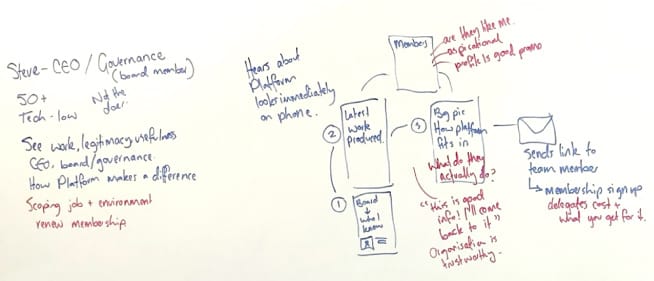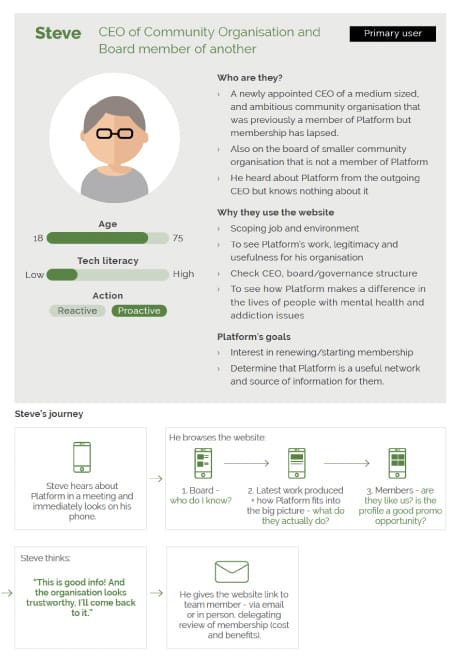 User testing
Following the kickoff workshop we had a clear understanding of the organisation's needs and their assumptions of their users' needs. It was important to validate this and so, during the User experience phase of the project we conducted moderated user testing with five Platform | Atamira website users.
This process was conducted remotely, and you can read about that in more detail in our Remote User Testing blog post.
Key takeaways of this process were:
Test the layouts and information organisation of the content on key pages.
Identifying usability issues related to content, navigation and interaction.
Evaluate the users' perception of ease of use; and perception of look and feel through verbal feedback.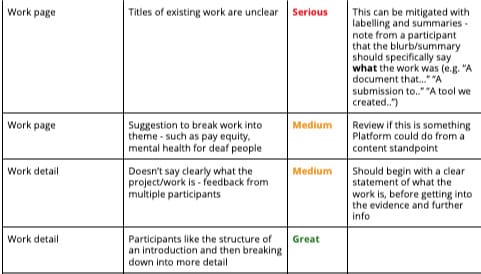 Findings were stored by user then collated into a matrix and prioritised according to severity. Recommendations were then applied to the design where necessary or stored for future consideration.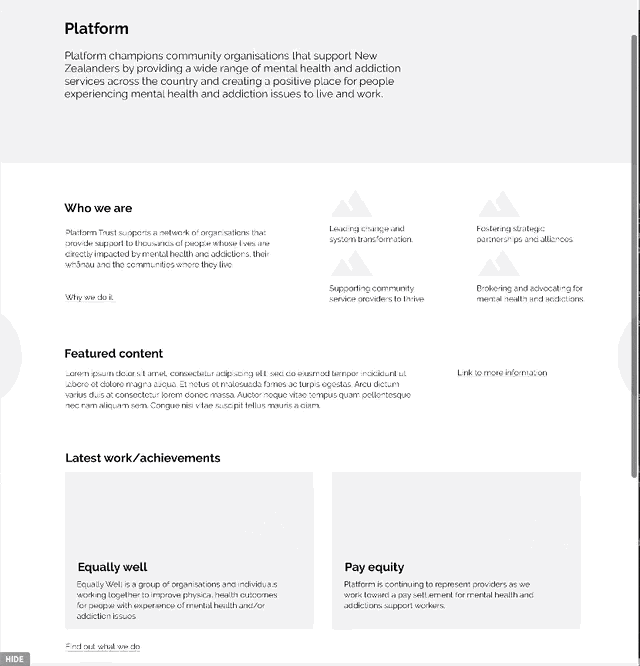 Notes on delivery
Some key considerations we had when working on this project, most of which applies across much of the work we do when building new websites or redesigning existing ones.
Content
Content is always an underestimated part of a website redesign. We worked closely with Platform | Atamira to support them in the updating and creation of content that was web friendly and accessible. This included involving the progress of this in our project timeline, providing templates and tools to assist in structuring content and weaving this into our design and development process to ensure what we created was led by content, even when created in parallel.
Te Ao Māori led
As an organisation, Platform | Atamira are actively working to improve their Te Ao Māori principles in their work and this includes their website. We worked closely with a Māori tohu designer to create web friendly tohu to be used in the website and provide Te Reo Māori headings and navigation.
Regular check ins
We don't believe in setting a brief, disappearing and checking in at the end when we deliver the final product. It is important to work closely with our client to build a shared understanding of the project, support them in this new undertaking, and be flexible to adapt and react to any changes that undoubtedly arise in any project. We had a weekly meeting placeholder with Platform | Atamira so that we had a means to check in every week to deal with any blockers, share new features and progress and answer testing or content questions. This gave both us and Platform | Atamira a clear framework to efficiently raise and address anything that had arisen in the week prior.
Testing and training
When moving to Silverstripe CMS, our clients are almost always excited to find how intuitive and easy to edit their website is. For many, it is their first time using Silverstripe and so we encompass training and testing together in order to effectively get into the deep end of editing and working with the CMS. Using our staging server, Platform | Atamira could add content, see how it looked, see what worked and find questions and issues in a low pressure way. In our weekly check ins we would cover what had been found and any questions they had come across when using the CMS.