← View all work
Oranga Tamariki Practice Centre
Continuous enhancements and maintenance to the organisation's knowledge base.
maintenance
UX/UI design
web development
ongoing support
---
Ongoing monthly maintenance and support, including new feature development and enhancements.
The Oranga Tamariki Practice Centre is a knowledge base for frontline social workers to find policy, practice guidance and tools to support their work. Following the design and development of this in 2018-2019, we have been supporting the Practice Centre with monthly development, design and consulting to cater to the organisation's requirements as they continuously seek to improve on the guidance and practice content available.
---
Roadmap for change
We believe in continuous improvement and discovery, and as such recognised that the "go live" date for the Practice Centre was not the end of making this a valued resource for Oranga Tamariki. We developed a roadmap that captures the ongoing recommendations and enhancements to the knowledge base.
This allows Oranga Tamariki to prioritise and focus on meaningful features and improvements.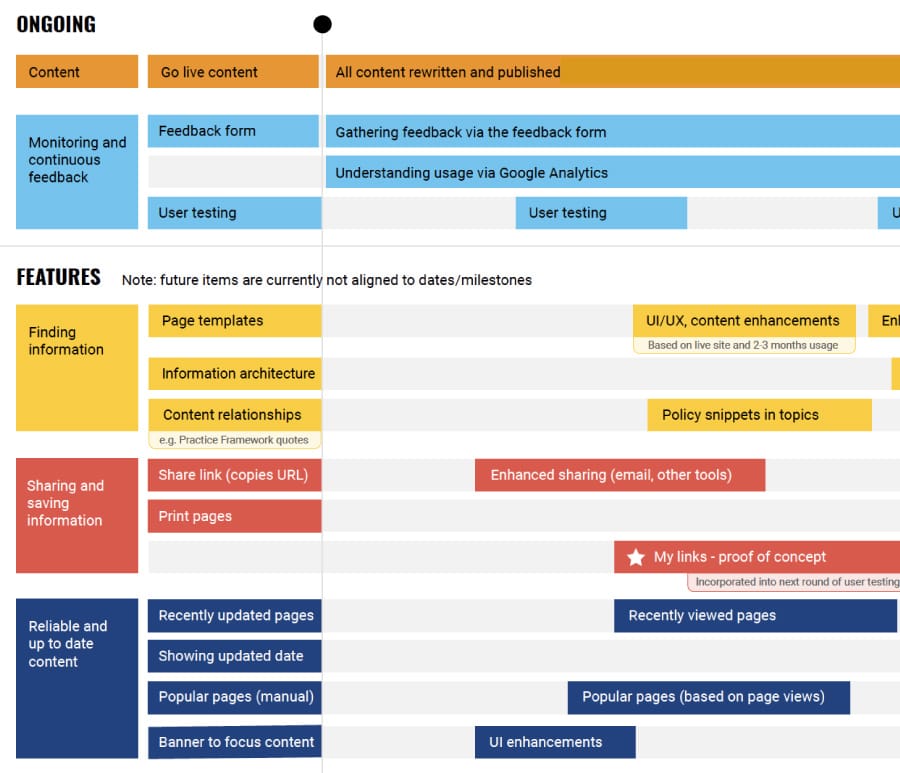 Streamlining work
The monthly framework of our engagement streamlines the process from request through to implementation. Work can be prioritised with the team, sized and then tackled, and the tools we use mean that communication flows quickly. And this is not limited to only development maintenance and improvements — through our monthly engagement we provide a range of support to the Oranga Tamariki Practice Centre team.
User experience
We work with the content team to understand new content or changes being planned and how to best communicate and display this information.
We also evaluate feedback that has been received and make regular improvements to the experience for social workers.
Development of features and enhancements
From small scale improvements to the editability of the CMS based on usage, to introduction of new features, we develop in a way that enhances the codebase of the Practice Centre while keeping it maintainable and flexible for future.
Discovery
When larger pieces of work are being planned, our monthly retainer enables us to spend time doing quality investigatoin and discovery work, in order to define and scope the most effective solution.
Steering and strategy
Based on our team's knowledge of Silverstripe, familiarity with the Practice Centre and our understanding of the specific users from the codesign project, we regularly provide guidance and opinions on the strategy and roadmap of the platform from both technical and user-centred perspectives.
Maintenance
Of course, maintenance and regular updates are essential to the Practice Centre to ensure it is a reliable resource and continues to be easily looked after.
How it works
Weekly check in

Discuss current tasks and blocks

Monthly review + plan

Review what was achieved and prioritise next month's tasks

Monthly report

Recap tasks resolved and hours used.
Our weekly meetings help us to understand the organisation's changing needs and what's in store over the coming months. This, and the regularity of the work means that our team remains highly engaged and familiar with the website and codebase, reducing the overhead that can sometimes come about from irregular pieces of work. Our familiarity also means we can provide informed recommendations or consultation about new ideas the team has, or problems that they want to solve.