← View all work
Resene ColorShop Online
Simplifying the process of buying paint, right at your fingertips.
web development
e-commerce
consulting
Managed application stack
---
Magento e-commerce store development to sell Resene paints and accessories online.
Selling paint online isn't your average e-commerce experience. With more than 3000 colours of paints available in different sizes and over 2000 testpots, Resene's online shopping experience needs to account for a multitude of buying options and configuration – and still feel easy for the user. We developed a B2C solution for the New Zealand and Australian markets.
---
Simplifying product management and maintenance.
The challenge Resene faced is that each finished paint comes from a base colour (e.g. white) and is then tinted. Although the bases are relatively stable, essentially any kind of colour can be created out of these. The price for the product is based on the base colour in combination with the pack size, rather than based on each individual 'tint'. Setting up each pack size colour combination individually would result in around half a million(!) paint products or even more to manage.
To mitigate this, we started with Magento and added extensive customisation to develop a flexible system which prices off the base colour - meaning there are just a few hundred paint products instead.
Calculating the right amount.
When you buy paint in-store there is normally someone on hand to help out with the quantities you need. How to replicate this in an online shop? The Paint Calculator allows customers to estimate their quantity requirement based on the size of the room they're painting.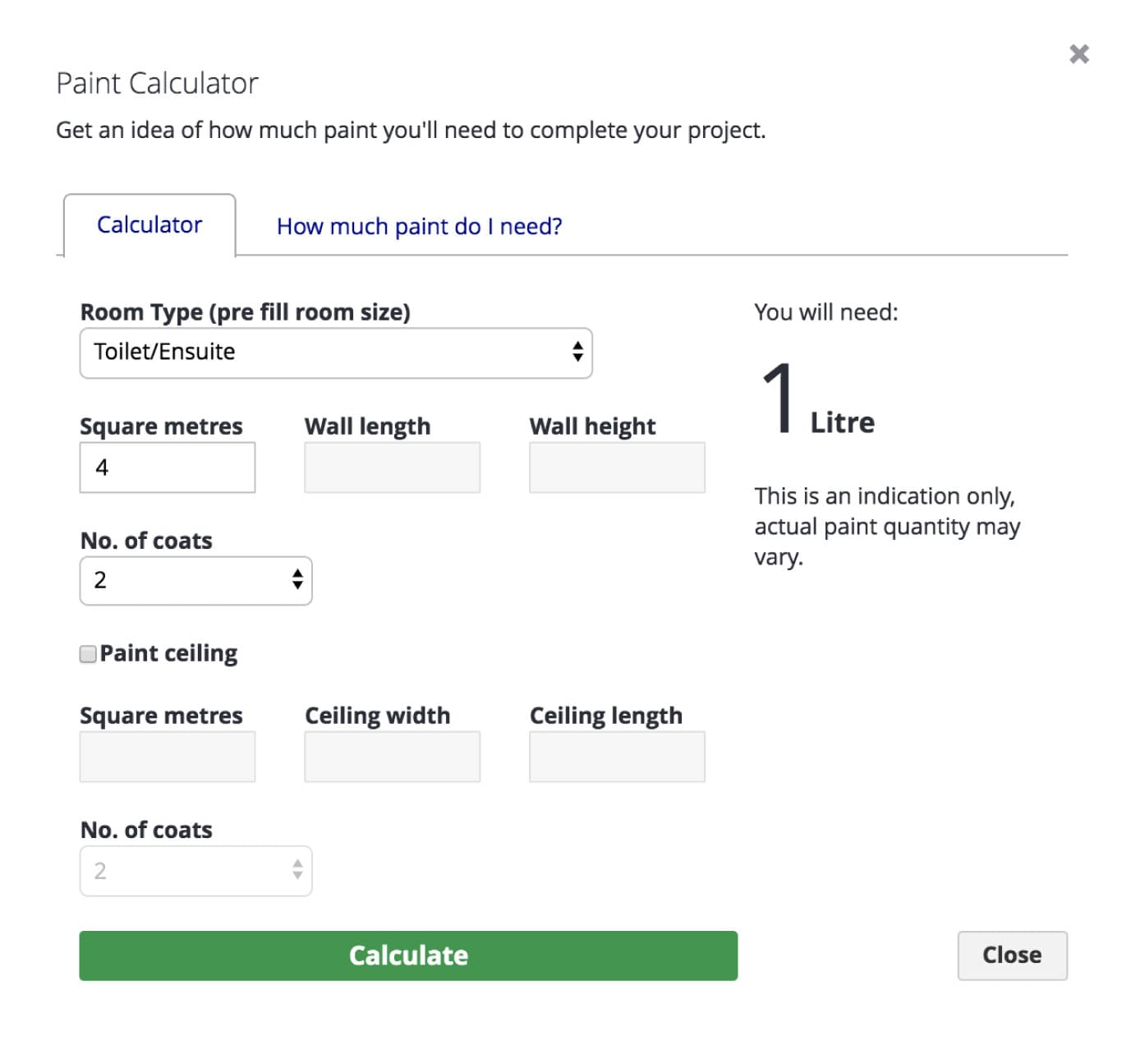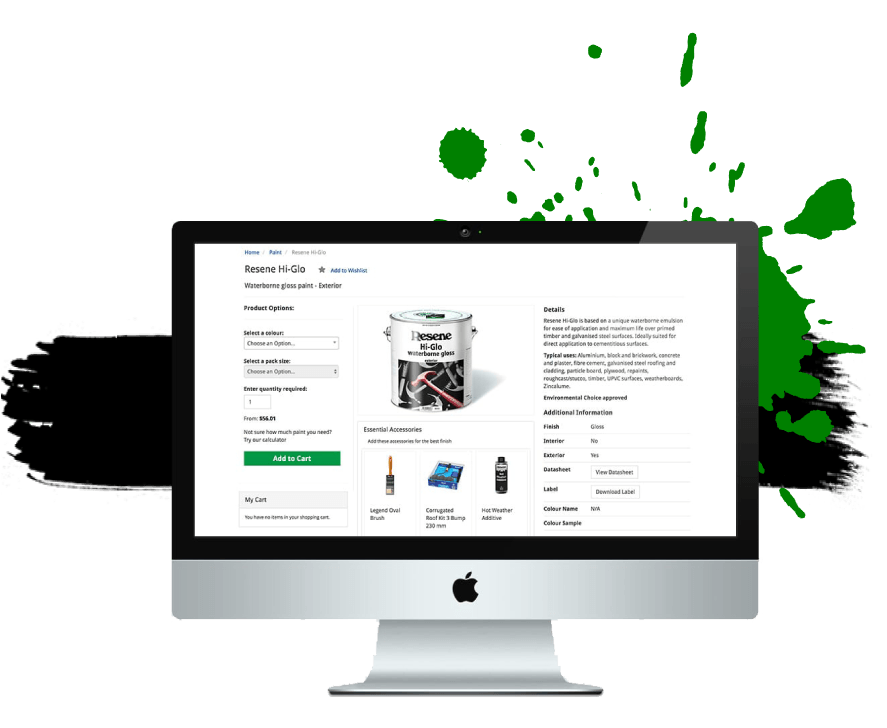 Contextual cross-selling.
It's important that Resene provide their customers with everything they need to get the job done well - such as the right brush for their paint choice. The Essential Accessories module within the paint product displays Resene's recommendations for extras, and allows the customer to add them to their cart there and then.
3000+ colours


Listed and able to be purchased from the website.
~2000 testpots


Linked to easily from the Shop by Colour page for users wanting to try out their colour palettes.
Two stores, one backend


Both the NZ and Australian stores and products managed through the same Magento interface.
Multiple integrations


To meet the requirements of Resene's story the site is integrated with trusted third-party resources including NZ Post and Braintree.
Getting the paint to the customer.
Ordering paint from the comfort of your home should also mean receiving that paint in the comfort of your home.
To achieve this and set up delivery by postcode we worked with New Zealand Post's eShip integration. The system also offers a Click & Collect service. This is not only for the benefit of customers who enjoy popping down to their local Resene ColorShop or are not around to receive delivery, it is essential for some of Resene's paint products that contain solvents. The system has to be smart enough that if a product containing solvent is added to the cart the order option is only to be collected from a physical Resene ColorShop. Customers can then select the Resene ColorShop closest to them and their preferred pickup date and time.
Other highlights
---
DIY card benefits
Resene offers great benefits to their regular DIY card customers and these have been translated to Resene ColorShop online. Resene ColorShop online allows for customers to sign up for a DIY card and immediately receive the discounts and special promotions.
Complementary colours
When browsing colours users can also see the complementary colours that Resene recommend pairing with them. This and the ability to save colours you're interested in allows users to browse and build up palettes they love.
Ben and the team did a great job of really listening to what we were after – and then making suggestions on how deliver. Throughout the project Springtimesoft showed a 'sixth sense' for finding the sweet spot between ideal results, upfront costs and ongoing support cost.
---
Joe Robins — Resene Head of Applications Development