Last week Ben and Laura attended NetHui 2019 — a gathering of people from industry, policy makers and community to discuss all things internet, with a specific focus on 'Safety, inclusion and wellbeing on the open Internet'. Essentially, over two days we heard about and discussed some of the biggest challenges we face as not only providers of technology services, but simply as users of the internet.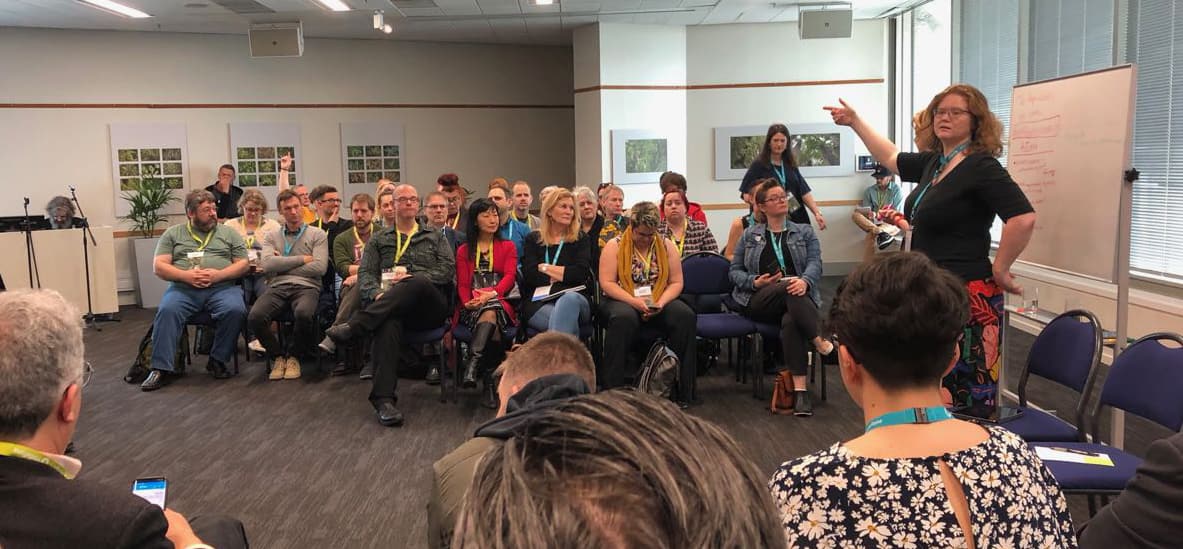 An Environmentally Sustainable Internet discussion, facilitated by Anna Pendergrast and Merrin Macleod.
One of the great things about NetHui is that it doesn't follow the traditional set up of a conference, while there were a couple of keynotes and panels the rest of the two day conference consisted of discussion groups - facilitated by a range of people and with an open floor for everybody to share their thoughts.
Through this discussion format, as well as NetHui's overall approach, the voices of Māori and other marginalised groups were a lot more shared and discussed than at other conferences in this sector that we have attended. This was extremely powerful and should be considered a standard of all conferences in Aotearoa. We understand that this was largely in part due to the work of some individuals who pushed and prodded to ensure a diverse group of people attended and felt safe to share — ngā mihi to all of those advocates.
From climate change to data collection of marginalised groups of people, there was an incredibly wide range of discussion topics and far too many to cover in one blog post! Over the next wee while we'll do separate posts delving deeper into specific topics from and related to NetHui, but in the meantime here is our quicktake of the core themes.
The good and the bad of the internet
As people who deal with technology and internet services every day, it is becoming more and more apparent that for every exciting opportunity the internet affords, there is an equal or opposite reaction. Globalisation of content and ideas has lead to incredible discussions and research, but also to extremist content being shared far more profusely. Collection of large pools of data can assist organisations in making informed decisions and valuable analysis, but also risks exposing people to persecution or marginalisation. And the much talked about "digital divide" regularly sees the tools that have the power to connect people much more widely, furthering the social and economic gap between those who are online and those who aren't.
These are just three examples of incredibly meaty problems that were discussed at NetHui, and which often came back to one core question - who is responsible? For example:
How much accountability sits with governments to regulate content and traffic?
Who is responsible for ensuring that elderly are considered when moving to online provision of services?
Is it up to the individual to read and understand the legalese of terms and conditions when signing up to a service, or should companies be required to make these understandable by all?
This topic of responsibility came up in almost every session we participated in, in one form or another, again and again.
In its simplest form, we all are responsible for the internet being a safe and inclusive place that at best makes the world better, and at worst doesn't make it worse. Within that, we need to recognise that some of us (government, policy-makers, companies etc) are in much more powerful positions to influence this than others, and it is not an acceptable excuse to expect individuals to educate themselves in every possible area, just as the onus shouldn't fall on community or advocacy groups to bare the entire burden.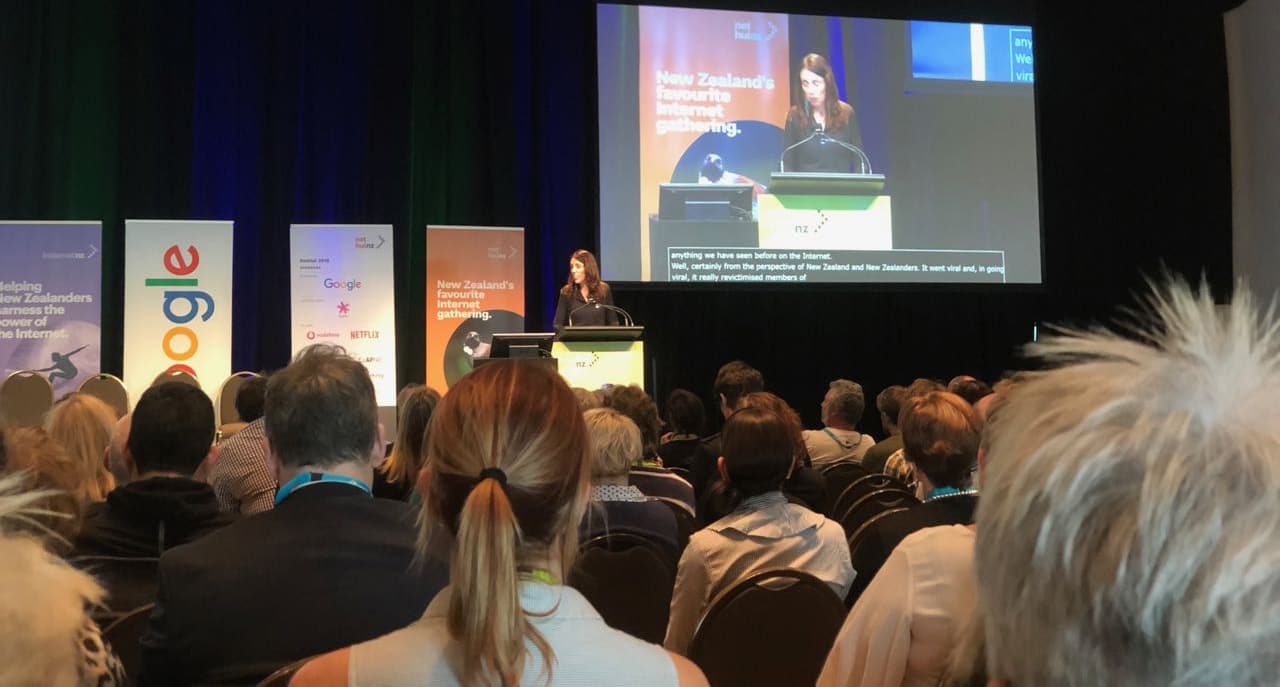 Prime Minister Jacinda Ardern addresses the NetHui audience with updates on progress since the Christchurch Call. View the livestream.
So what can we do?
As a technology provider, and especially as web application developers, there are specific areas in which we can(should) take responsibility, such as
Working with third-party providers who are transparent and hold the same values we do
Committing to building accessible and inclusive websites for everybody
Educating our clients and partners on areas that they are unaware of (for example web accessibility, or the environmental impact of their decisions)
Advocating for best practices within our industry
Diversity in all teams we work with - testers, clients, etc
Providing transparency into our processes and the tools we use
Measuring our own social and environmental impact
Taking action
In the wrap up of most sessions at NetHui action plans were created in order to capture the discussion and ensure it doesn't stop here. This was a great way to make sure there are tangible things to take away and do at the end of the conference. And, even better, if you didn't attend you can still view some of these by checking out the NetHui programme for sessions you are interested in, and referring to the shared docs linked in the session descriptions, for example An Environmentally Sustainable Internet or Internet of Things. Unfortunately, not all sessions seem to have this published, but you can also checkout #NetHui on Twitter for discourse happening during the conference and since.
All in all, NetHui left us buzzing and with a whole lot of things to think about. If you'd like to catch up on any of the topics discussed, you can check out all of the livestreams on the NetHui website.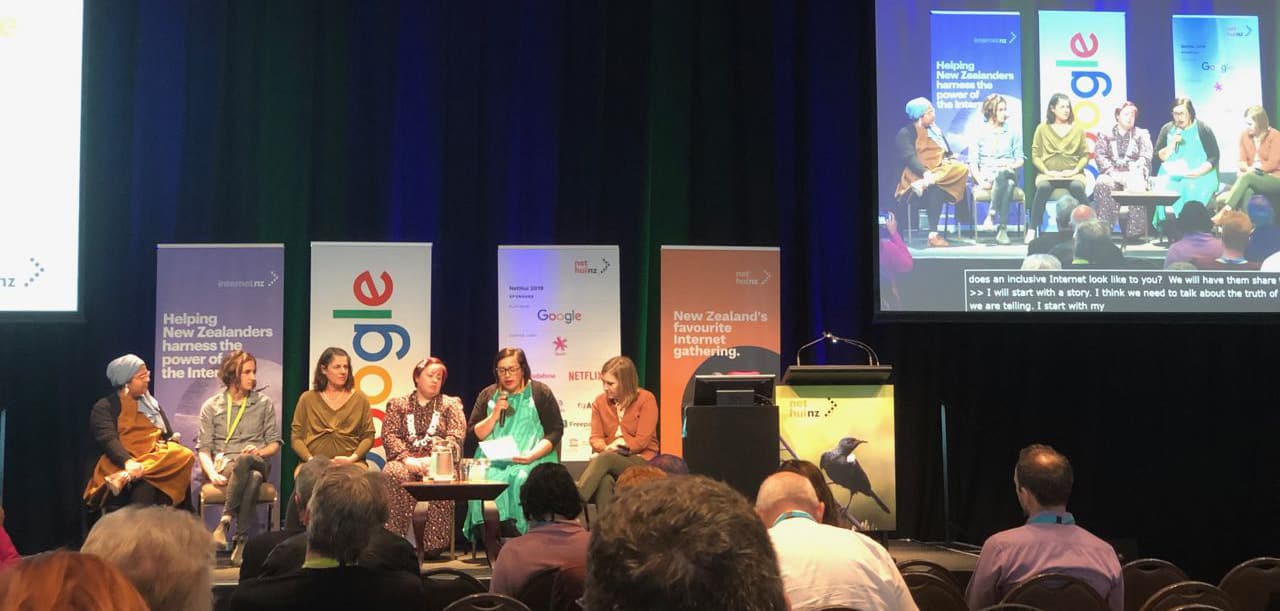 Panel: Building an Inclusive Internet, panelists left to right: Pakeeza Rashid, Emmi Bevensee, Marianne Elliott, Nat Dudley, Amber Craig, Dr Ellen Strickland.
---
NetHui is created and powered by the team at InternetNZ, a non-profit organisation supporting the development of New Zealand's internet and the guardian of .nz. Their mission is "an Internet that is open, secure, and for all New Zealanders".