Over the course of 2020 we heard, as you likely did too, the same phrases repeated (and probably said them a few times too). When can 2020 be over. These are unprecedented times.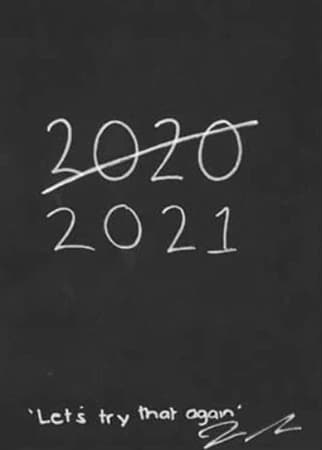 Jacinda Ardern's summary of 2020. Donated to raise funds for Wellington's Pablos Art Studio.
As we turn the page into 2021, we know there's no button that resets things. Rather, after a couple of weeks of rest, we've had a chance to reflect on the year that was 2020. And while we think there is mutual consensus around Jacinda's doodle, we've had the opportunity to also think about some of the good things that came along and some of our achievements. In doing this we know, without doubt, that we are some of the lucky ones; that for many businesses and individuals, 2020 had catastrophic effects.
And therefore before anything else, we want to take this moment to thank all of the organisations and individuals who have supported us and worked alongside us. We feel incredibly grateful to be in the privileged position of writing this reflection and planning 2021.
And so, here's what 2020 looked like for Springtimesoft:
Not so new ways of working
As the Covid-19 pandemic raced around the world, and Aotearoa responded in the introduction of Alert Levels and a Level 4 lockdown, people everywhere were adapting to new ways of working. As a remote team at Springtimesoft, this was reasonably close to our normal - remote tools and processes are very much tried and tested for us. We were in the fortunate position to be able to continue relatively unimpeded by the change, and support our clients and collaborators in this transition.
Of course, being prepared for the ways of working didn't mean we were unaffected. Dealing with the social strains of lockdown and stress of the pandemic, along with the changes to home as children, flatmates and partners came into our work spaces and hours, all had an effect on our team.
Knowing that during the lockdowns meeting in person was not a possibility was stressful, particularly when certain types of work were much better suited to in person.
Project highlights
As every year, we were excited to have some fantastic projects in 2020 with both existing and new clients. We are proud to have worked with many fantastic organisations doing important things for New Zealanders, such as creating a brand new website for the rebranded Upside Youth Mentoring, a redesign for Platform Trust and a new campaign site for NZ Drug Foundation's campaign The Level, helping New Zealanders learn, think, and talk about their use of alcohol and other drugs.
We also encountered exciting technical challenges, such as steering, maintaining and upgrading the Student Job Search platform and supporting Resene to continue selling and fulfilling on orders during lockdown.
For some of our clients, the lockdown had a dramatic impact on the way their businesses operated. As a result, the criticality of their digital assets which we support and maintain increased. This was at times very challenging amongst other pressures on us as we adjusted to doing business in a pandemic.
It's nice to know that we have played a part in how businesses have adapted to operating, and that some of these learnings will have a lasting impact.
Engaging users and codesigning
As work went on and projects continued, remote working for everyone meant new ways of providing services. A key area this was used was in the facilitation of various remote workshops and moderated user testing. Shortly after, we wrote a blog reflecting on the user testing, which can be read here: Blog post: Remote user testing.
In between the nationwide Level 4 and Auckland's Level 3 lockdown in August, we were lucky to get back out into the field and conduct codesign workshops and research on the factory floor of Venerdi. We have also continued to investigate tools and software that assist in this facilitation, from Miro, to Mural, Google docs and sheets to Invision freehand.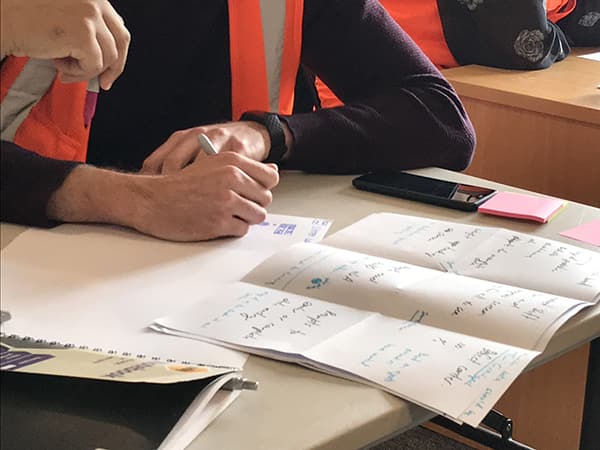 Company get togethers
Our intention as a remote team is to hold a quarterly team get together over the course of a few days, outside of our normal working areas. You can read more about what happened in our 2019 Kawakawa Bay blog post.
Despite a few hiccups along the way, we were fortunate enough to have two get togethers in the latter half of the year. In September we gathered in Whangapoua to enjoy the beach, reconnect and discuss the organisation's direction and processes. Following this, in December we celebrated the end of 2020 together in Whangateau with paddleboarding, backyard cricket, beach and a visit to Brick Bay to enjoy the restaurant and sculpture trail. These get togethers, along with many calls over Slack, have been an important way for our team to reflect on the impacts that 2020 had on us and our communication. They have also been a catalyst for more internal focusses such as automation and improvements of internal processes.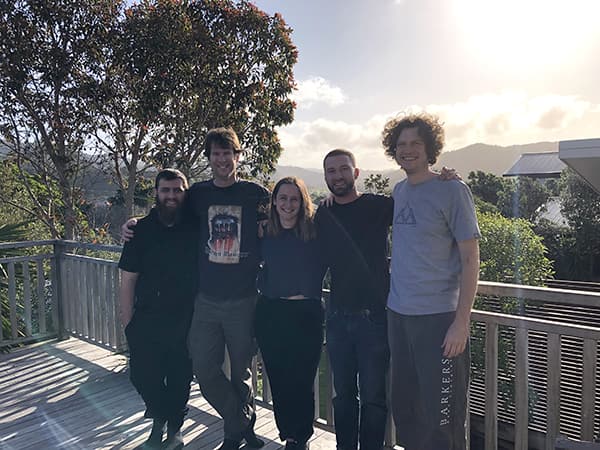 Springtimesoft team in Whangapoua - September 2020.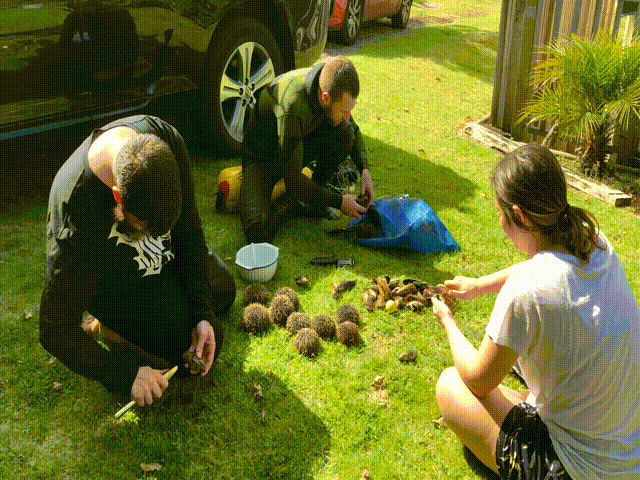 Cleaning up lunch - kina, mussels and tuatua collected in Whangapoua.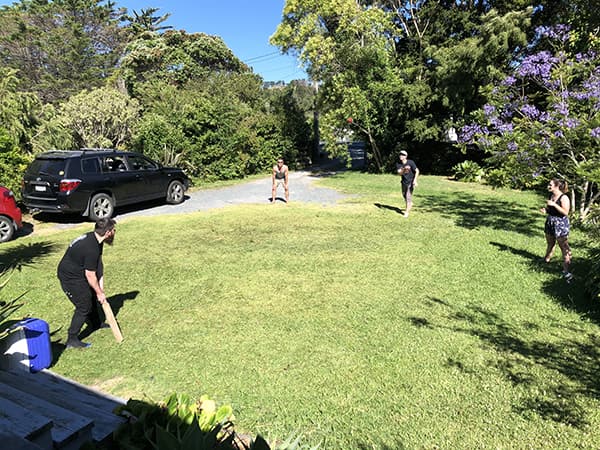 A spot of backyard cricket.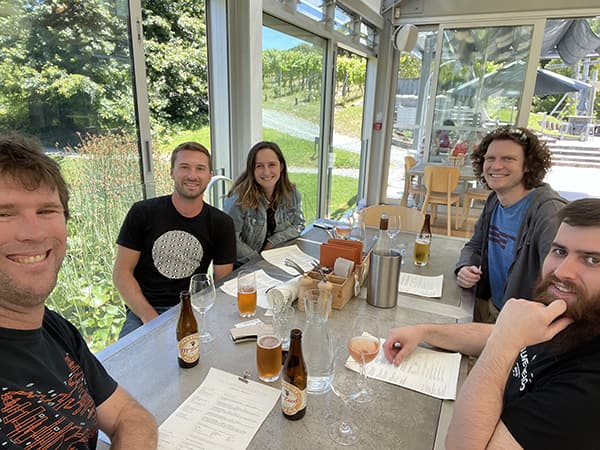 Christmas lunch at Brick Bay vineyard.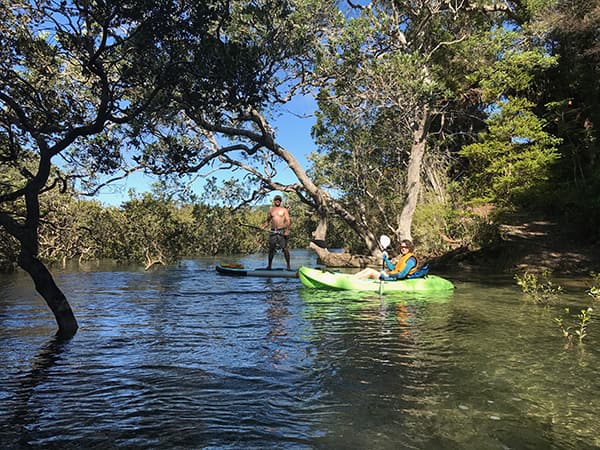 Exploring the Whangateau harbour.
The team of 5 million
The rallying phrase of the year was a call to New Zealanders as our team of 5 million, and a joint effort to do what we could to support each other through these times. At Springtimesoft we felt extremely grateful and proud that we were able to repay the Covid wage subsidy in full and, along with our clients, work hard to contribute towards Aotearoa's ongoing economic recovery.
Dealing with the pandemic and surrounding pressures was fairly consuming in 2020. For a while we were busy doing the doing rather than communicating. Parts of the business were evolving rapidly, and not all of our team were able to come on the journey at times. We were focused on things right in front of us and as a result didn't spend time looking into new opportunities and partnerships. This will be a real focus for us in 2021.
In a year in which a lot was bad, we have also found a lot to be grateful for and proud of. We have learnt new things, solved some challenges and connected in new ways. We've come out of 2020 ignited and motivated.